​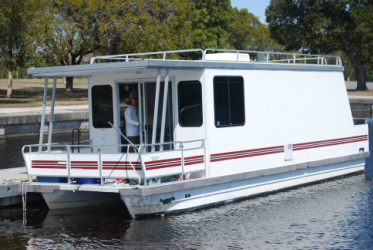 If you can find the time to get down to Everglades National Park and are willing to donate a couple pints of blood to the mosquitoes and all jaws, then you may want to make a weekend of it.


You can rent a houseboat from the park. It sleeps 5 comfortably and 7 very uncomfortably. One of the hardest parts of fishing the Everglades and Flamingo is the logistical issues that you will have to contend with. Because the place is so huge it is hard to get to your favorite tarpon or snook spot by first light. That is the great thing about having your houseboat anchored strategically close to your favorite sunrise and sunset fishing spots. It is well worth the money to have a chance to jump a six foot tarpon or land a 40+ inch snook.
---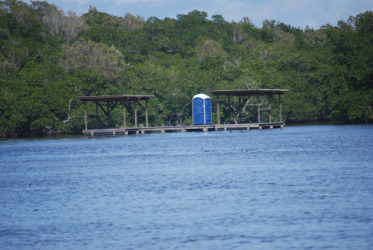 There are chickees that are spread throughout Everglades National Park up towards the Chokoloskee region. This is a much cheaper way to stay in the park. They only cost a few dollars a day.


If you are okay with bugs and don't mind wearing mosquito nets at night, then camping on a chickee can be a great way to fish the area.
---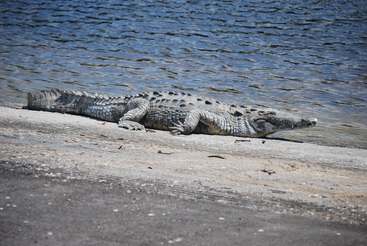 This guy is usually at the boat ramp making sure that you don't do anything stupid like fall in or get too close when taking his picture.


The Everglades area is the only place in the world where you can find saltwater crocodiles and alligators living in the same waters. Some of these crocs are absolutely enormous.
---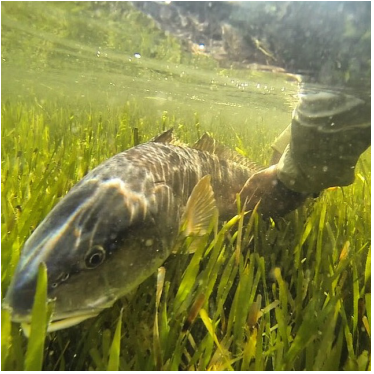 Tim sent in this great picture of a 32 inch redfish that he caught in Everglades National Park. This underwater photo won him a grand prize package in one of our recent photo contests. What an amazing picture!!
---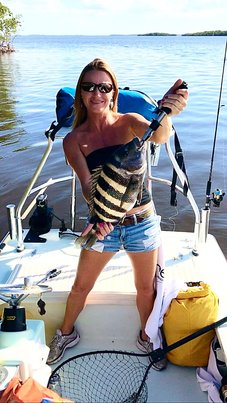 Allison sent in the great picture of a delicious looking sheepshead. She caught this sheepshead in Flamingo pitching a shrimp to the mangroves. Nice one. This photo also won her our grand prize package for our monthly photo contest.
---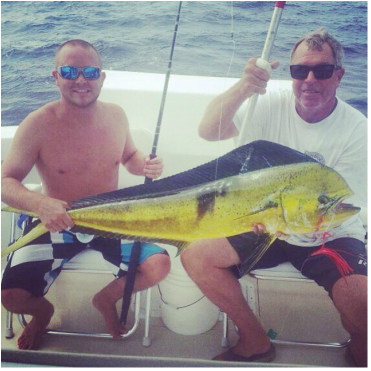 Cameron sent us in this great picture of a dolphin that he caught with Captain Dave 10 miles off of Key West. He was trolling the weed lines when this sow slammed into his ballyhoo and 35 minutes later, the gaff was in. Nice fish!
---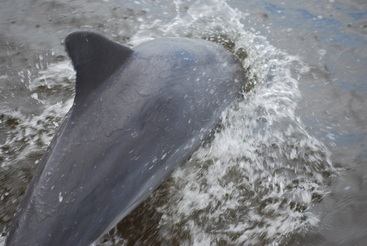 These bottlenose dolphins gave us an escort to our ultimate anchoring destination in Mud Bay. They played in our bow wake for 20 or 30 minutes before getting tired of us. This pod had at least 8 different members in the group.
---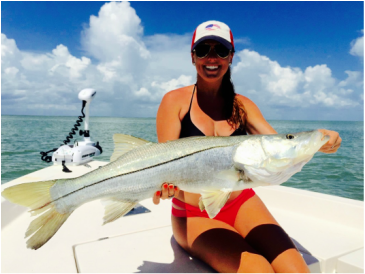 Lindsay caught this monster 40 inch snook on a fishing trip to Naples. This fish fell for a live bait offering in about 8-10 feet of water. Lindsay also won one of our photo contests with this snook. Nice one.
---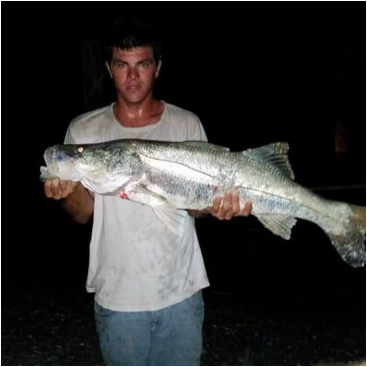 Justin sent us in this great looking snook that he caught off of the beach in the 10,000 Island area. He was walking the beach fishing with a live finger mullet using 20 lb power pro when he caught this beauty.
---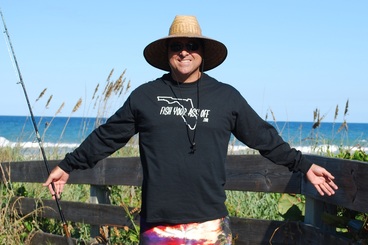 ---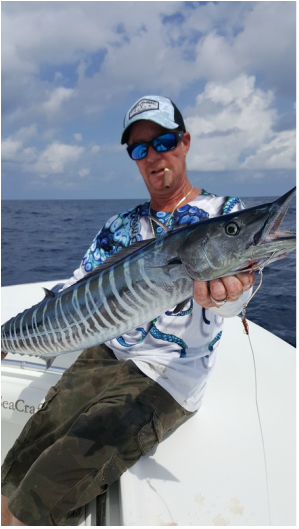 Captain Cody sent us in the beautiful wahoo picture. He caught this wahoo fast trolling a ballyhoo in 900 feet of water. He was fishing offshore from Key Largo. Nice fish Cody.
---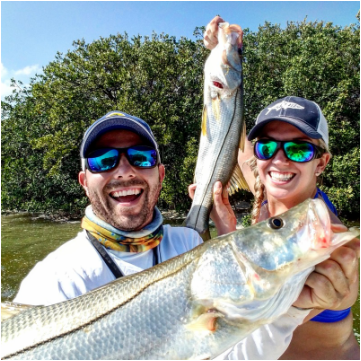 Thomas from TNT fishing charters sent us in this awesome two for Flamingo snook photo. They caught these two in a Flamingo channel on the outgoing tide using live pilchards. They chummed them into a frenzy with a couple of freebies first and then threw the ones with hooks into the fray. Nice catch.
---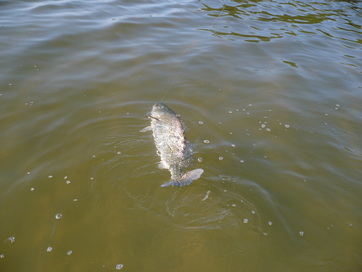 The spotted sea trout is one of the most sought after fish in Florida. They are excellent to eat and very numerous. This trout ate a dead bait that was thrown near the mangroves on a large mudflat right next to a deeper channel. Large trout like this one tend to stay near deeper water when possible.
---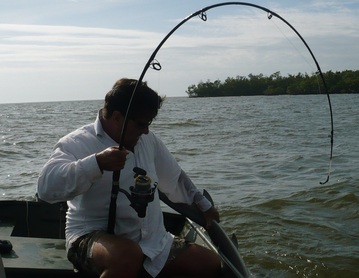 In this picture I have a Chokoloskee area bull shark by the tail trying to get the hook out. This shark was caught at the mouth of the Chatham River on a dead ladyfish. Before I switched to wire leader I lost a black tip that gave one jump before cutting the line and two other sharks that never showed themselves.
---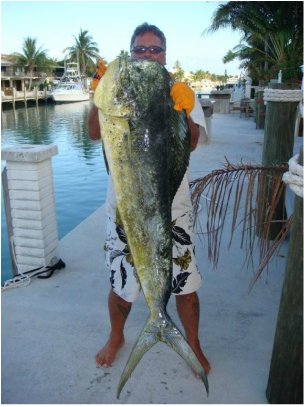 Rick sent us in this picture of a huge dolphin that he caught off of Marathon Key. He was trolling a ballyhoo in about 600 feet of water when this monster slammed his bait.
---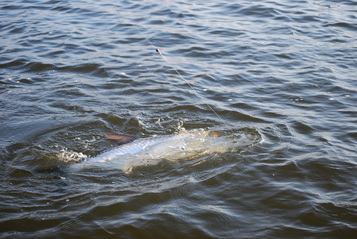 Tarpon are so much fun to catch. This one was caught with dead bait on the bottom. The problem with fishing with dead bait in the Everglades region is the sharks usually find it first.
---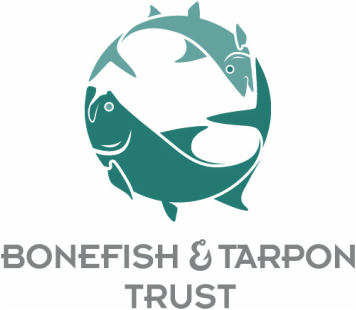 The Bonefish and Tarpon Trust is an amazing organization dedicated to the conservation and global enhancement of bonefish, tarpon, permit and their environments. This is another group focused on keeping our fisheries abundant and healthy for generations to come. Check out their website
HERE!
---
This bald eagle is probably waiting for an osprey to catch something so he can relieve him of his lunch. There are also peregrine falcons, barred owls, red tailed hawks and red shouldered hawks all over this place. The Everglades are a very fertile hunting ground for raptors as well as fish.
---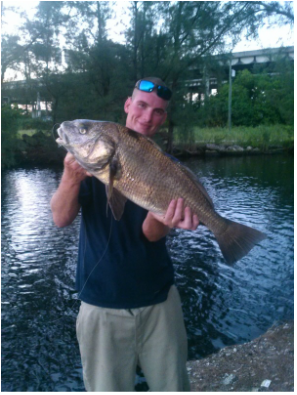 Daniel sent us in this great picture of a black drum that he caught in the Fort Lauderdale area. He caught this drum at high tide using a live shrimp. It weighed 15 pounds and took him 20 minutes to get in with his light tackle that he was using. Daniel decided not to eat it and let it go to make more black drum some day.
---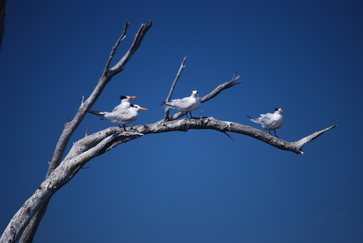 These royal terns are usually accompanied by sandwich terns and a myriad of other diving birds. Quite often these guys will show you where the bait is. Once you know where the bait is you will know where the predators waiting to eat that bait will be.
---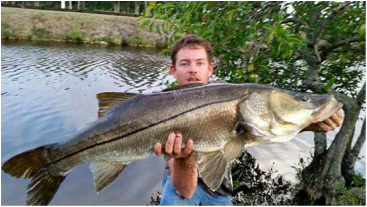 Steven sent in this picture of a monster 40 inch snook that he caught in a secret spot somewhere in West Broward County. He caught this sow on a baitcaster with 40 pound power pro and a live pilchard. Nice one.
---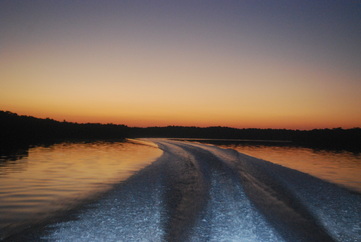 This is the view as you try to beat the sunrise to your favorite tarpon spot at your favorite Everglades river mouth. Those finicky tarpon may only turn on for the first 45 minutes of the day so you had better be in your spot when the bite happens.
---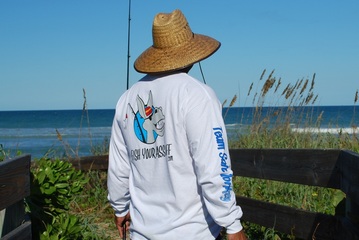 ---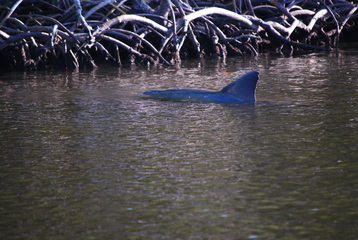 We watched this dolphin hunt something for about 20 minutes. It would get some speed and head straight towards the mangrove roots and stop right before he ran into them. After his wake hit the roots he would shove his face right into the roots. We could not figure out if he was eating crabs or little fish hiding in the roots. Whatever he was doing, it was pretty cool to watch.
---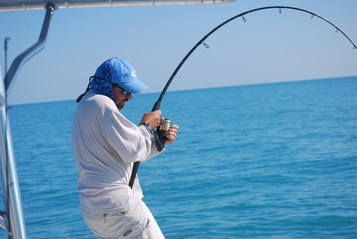 My friend has his hands full with a sea monster. The Flamingo region offers many great spots in the Gulf of Mexico to find fish. You usually have to look for birds diving, wrecks, rock piles or any structure that will attract fish.


On this day we were in search of cobias, tarpon and permits to do battle with.
---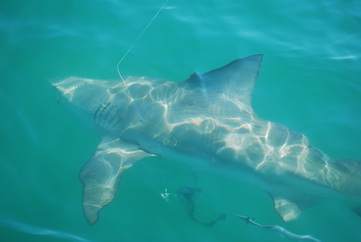 Even the best laid out plans often don't work out the way you want them to. Instead of battling a 30 pound permit this 8 foot bull shark decided to crash our party. She ate our 4 inch pin fish presented under a bobber and gave my buddy (see picture above) sore arms and sore ribs for a few days. We had to drop our anchor and follow her a few hundred yards because she almost spooled us.
---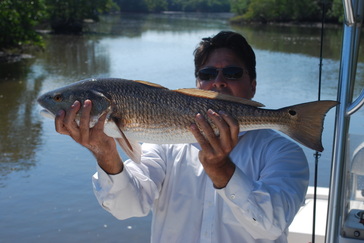 The red fish population has rebounded quite a bit in recent years since the freeze that killed many of them off. Just about any creek or river mouth will hold some reds.


The great thing about reds is that they are not finicky eaters. They will eat just about anything that you throw at them. There are times when jigs will work just as well as live baits. This guy fell for a live shrimp with a tiny split shot in about a foot of water.
---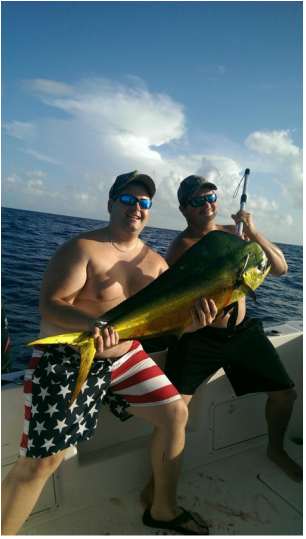 Chris sent us in this picture of a summer dolphin that he caught off of Marathon Key. He was trolling a spread of large ballyhoo with several feet of 110 lb. fluorocarbon leader using a long shank 9/0 hook. Dolphin are biting; cold beer and hot sun...You gotta love the Keys in the summer time!
---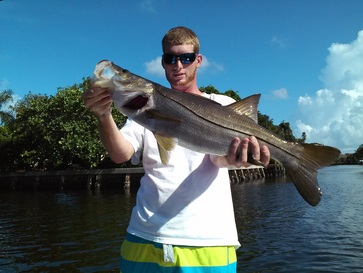 Daniel M. Jr. sent us this great picture of a nice 20 lb. snook that he caught in the middle of the day on a live mullet. He was fishing near a Ft. Lauderdale bridge on the high outgoing tide. It took him about 20 minutes to get this sow in.
---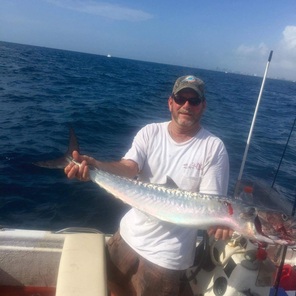 Daniel M. Sr. sent us in the nice smoker sized kingfish picture that he caught out of Port Everglades. He was trolling a sea witch with a bonita strip on a planer at 50 feet when this king mackerel slammed his bait at about 11 a.m. Kings are so much fun to catch. Nice one!
---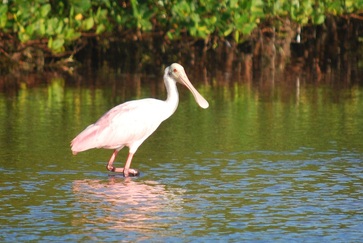 Roseate spoonbills like this one can be seen searching for shrimp and other crustaceans all around the Everglades and 10,000 Islands region of Florida. They are usually very shy but this one let me get close enough for a great picture.
---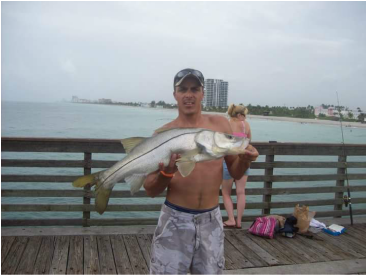 Steven sent in this great picture of a snook that he caught off of the Dania Beach Pier. He caught this sow on 12 pound test mono, 25 pound fluorocarbon leader and a live pilchard. It measured in at 38 inches and weighed 12 pounds.
---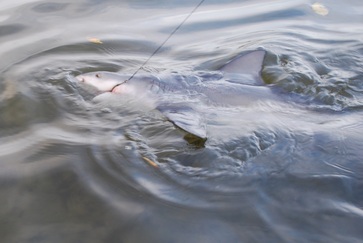 The Everglades back country is absolutely full of bull sharks and lemon sharks. You couldn't pay me to wade fish the Everglades back country. This bull shark was caught off of a mudflat drop off on a dead mullet.
---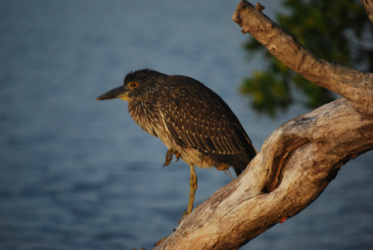 These guys are some of the best fishermen in the Everglades. This is a juvenile night heron that kept us company on a Chatham River camping adventure. I often think about how lucky they are getting to fish the Everglades every day as I am leaving this fishing paradise.




Let's get some lines wet Florida!






---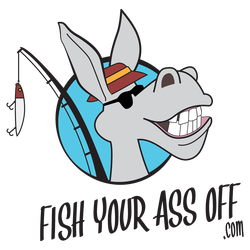 Send us your photos.
Be part of Team Salt Donkey and send us your fishing photos for publication on our website and Facebook page. Send photos to photos@fishyourassoff.com. Images must not have appeared or been submitted elsewhere.


Make sure to include the names of the people pictured, location of catch, details (ie. it took an hour to reel in; it weighed 100 lbs.; it was at dead low tide...) and the bait and tackle used.
---