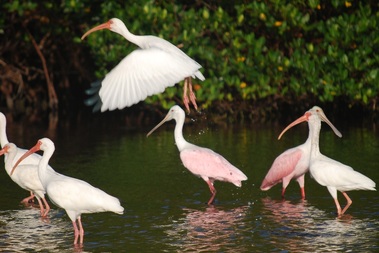 Private Guided Kayak Eco-Tours for the Treasure Coast
We give you private, guided kayak eco-tours for Vero Beach/ Hutchinson Island, Florida.

We focus on providing couples with a private, relaxing eco adventure to be remembered for a lifetime.Below are the most frequently asked kayak eco-tour questions.Where is the kayak eco tour location?
You will explore Round Island State Park. Round Island Park is one of the most beautiful, fertile and bio diverse areas along the Treasure Coast of Florida. During your private kayak eco-tour we will explore the waters around the park as well as the many spoil islands in the area.
What types of animals can we see?
Round Island is probably the best bird watching/manatee watching location on the Treasure Coast of Florida. There are usually many manatees and dolphins frolicking in the waters around this park. It is also a birdwatchers paradise (especially in the Winter months). All kinds of wading birds such as roseate spoonbills, great blue herons, great white egrets, snowy egrets, black and yellow crowned night herons and many shore bird species frequent this area. There are also bald eagles, ospreys, cooper's hawks, peregrine falcons, cormorants, pelicans and much, much more....
When are the eco-tours available?
We offer morning (session A) and sunset (session B) 7 days a week. Each session lasts 2.5 hours.
Session A runs from 8 am to 10:30 am.
Session B runs from 3 pm to 5:30 pm.
How much does it cost?
The cost is $75 per person and there is a 2 person minimum and maximum. A $75 deposit will be taken over the phone to confirm your reservation. A
CASH
payment for the $75 balance is due before the tour begins and you must sign a release and acknowledgement of risk disclosure.
What is included in the kayak eco tour?
A native Floridian guide with nearly 50 years of outdoor experience; fully rigged kayaks, a dry box for your electronics, a cooler full of cold water, the safety equipment required by law and digital pictures of the day's fun are all included.
What should we bring?
Bring a smile and a sense of adventure; a dry change of clothes; snacks, sunglasses, hat, sunscreen, water shoes and clothes that will most likely get a little wet. The park has a bathroom to change out of your wet clothes after your kayak eco-tour ends.
Does your company also offer guided kayak fishing charters?
Yes we do.
CLICK HERE
to learn more about our kayak fishing charters.
How do we book an eco-tour?
Simply
CONTACT US or call 561-339-2317
and we will let you know if your requested session is available. Please tell us your cell phone#, the date and session you want. We will need
at least
a 72 hour notice. (Weekends can fill up quickly.)
What if we are late or have to cancel?
Your private guide will wait for one hour at the launch site. If you come later than one hour, your deposit will be forfeited. You must also cancel your reservation at least 72 hours before your session start time to have your deposit refunded to you. If you cancel less than 72 hours before your session start time your deposit will be forfeited.
Let us show you one of the amazing natural treasures of the Treasure Coast!
---