FYAO Kayak Fishing Charters and Trips

The video above covers our kayak fishing trips and charters.

​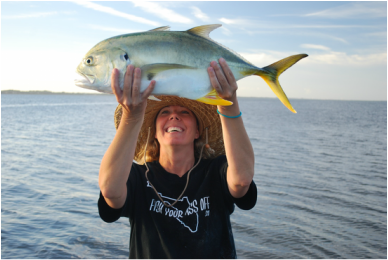 Kayak Fishing Charters and Trips for the Treasure Coast of FloridaWe give you inshore saltwater kayak fishing trips and charters for Vero Beach, Fort Pierce, Jensen Beach, Stuart, Hutchinson Island and Port St. Lucie, Florida.
Below are the most commonly asked questions regarding our saltwater kayak fishing trips and charters.
Is kayak fishing difficult and uncomfortable?
No, sit-on-top kayaks have come a long way since those that were so unstable that you fell out of them every time you tried to get into or out of them. The kayaks that you will use are very stable. In fact, you can stand up on them if you want to. The seats in the kayaks are very comfortable as well.
What can we catch?
The Treasure Coast of Florida is an inshore fishing paradise. You can catch all of the fish mentioned on the
WHAT TO
page and then some.
What kind of wildlife can we see?
You will discover that the Treasure Coast is a wildlife hot spot and it is very common to see manatees, dolphins, sea turtles, otters, roseate spoonbills, snowy egrets, blue herons, ospreys, bald eagles and much, much more....
When are your kayak fishing charters offered?
We have a few different options to choose from. Our daytime kayak fishing trips and charters are available 7 days a week and are split into A and B sessions. Session A starts at sunrise and is 4.5 hours long. Session B is 4.5 hours long and ends at sunset.
How experienced do I need to be to take part in your guided kayak fishing charters?
Everyone from beginners to experienced anglers will enjoy kayak fishing. Beginners are encouraged to look through the
HOW TO
page and the
VIDEOS
page to learn the basics of fishing and knot tying.
WARNING: The charters mentioned below may cause you to have an AMAZING FISHING ADVENTURE!!!
What kayak charters are available?
We have 3 charters to choose from. A
ll of our
kayak
charters are in the intracoastal waterway from Vero Beach to Jensen Beach. We have many options to choose from.
1)
Round Island Park, Vero Beach gives you the best chance to see manatees. It also offers mangroves adjacent to fertile grass flats and many different spoil islands to explore and fish around. There are many different fish species that can be caught here such as; tarpon, mangrove snapper, spotted sea trout, snook, redfish, jack crevalle, ladyfish, bluefish, pompano, sheepshead, black drum, sharks...... We also offer a two person
KAYAK ECO TOUR
for this location.
2)
South Hutchinson Island offers many different launch points and gives you the best chance to catch a large numbers of spotted sea trout. This area lacks the spoil islands but has acres upon acres of grass flats and tidal creek mouths to fish. The same fish species mentioned above can be caught here too but you are less apt to see a manatee.
3)
Kayak Tarpon Fishing Charter-- You might never want to fish for anything but tarpon once you catch one from a kayak. They are the best fighting inshore fish that there is. This charter is only available from May 1st until November 1st and begins at sunrise and last 4.5 hours.​ (The tarpon fishing charters can fill up very quickly so book your trip early.) Click the link below to see kayak fishing for tarpon videos.
​Do you have any recent FISHING REPORTS and VIDEOS?
Yes,
CLICK HERE
and learn more.
What should I bring?
You will need a Florida Saltwater License that you can get here
SALTWATER LICENSE.
You will also need appropriate fishing clothing (you will probably get wet), sunscreen, a wide brimmed hat, whatever food and drink you will need, shoes that you don't mind getting muddy and wet and polarized sun glasses.
Can I keep the fish we catch?
No, we believe in the CPR fishing method. Catch>Photograph>Release
When is the best time to fish in your area?
The fishing is great year round but major cold fronts in January and February do slow the bite down. Weekdays are almost always more productive than weekends because the extra boat traffic on the weekends will often scare the fish off of the shallow water grass flats.
What do your kayak fishing guide charters provide?
We provide a native Floridian guide with more than 40 years of Florida inshore saltwater fishing experience, a fully rigged kayak, a dry box for your electronics, safety equipment, a cooler full of water and all of the bait, tackle, rods and reels that you will need.
We will take amazing photos of you and your catch that you can remember for a lifetime.
How much do your kayak fishing charters cost?
The cost is $200 for one person. Add $100 for an additional fisherman. So one person would pay $200; two people $300. (The max. is 2 people.)
Is there a discount if we bring our own kayaks and tackle?
Yes. If you have your own kayaks and rods and reels a discount of $50 per person will be subtracted from your kayak fishing trip. So one person would only pay $150 and two people would only pay $200.
How many fishermen can be part of a kayak fishing charter?
The maximum number of fishermen is two for our kayak fishing adventures.
How do I pay for your kayak fishing guide services?
Step 1)
A $100 deposit is required to lock in your charter session. If bad weather prevents us from fishing, you will receive a full refund.
Step 2)
A
CASH
payment for the balance is due at the launch site
BEFORE
the fishing session begins and you must sign the release and acknowledgement of risk waiver. You must also show proof of a valid Florida saltwater fishing license.
What if we are late?
Please call if you are running late or can't make it. Your guide will only wait for one hour. If you are more than an hour late your deposit will be forfeited.
What if there is bad weather and we cannot fish?
Florida weather is very unpredictable. Light rain does not stop us from fishing. We supply rain ponchos for you. If bad weather prevents us from fishing (heavy rain with lightning and/or 20 plus mph wind) we will gladly reschedule your fishing trip or refund your deposit. If bad weather happens after the session has begun and we have to quit early, your session will be prorated for the time spent fishing.
How do I book a fishing trip with your company?
Contact us via phone
561-339-2317
or
EMAIL US
and we will call you to confirm the availability of your reservation date and take your credit card information for the deposit. Please tell us your cell phone number, which session you want, which charter location you want, how many fishermen and the date that you wish to reserve. (We will need
at least
72 hours advanced notice.) Weekend sessions can fill up months in advance!
What if I need to cancel my fishing trip?
Please cancel your fishing trip
at least
72 hours before your reservation time. Your deposit will be forfeited if you do not give
at least
a 72 hour notice of cancellation.
​Let's get some lines wet!!!!!!
---